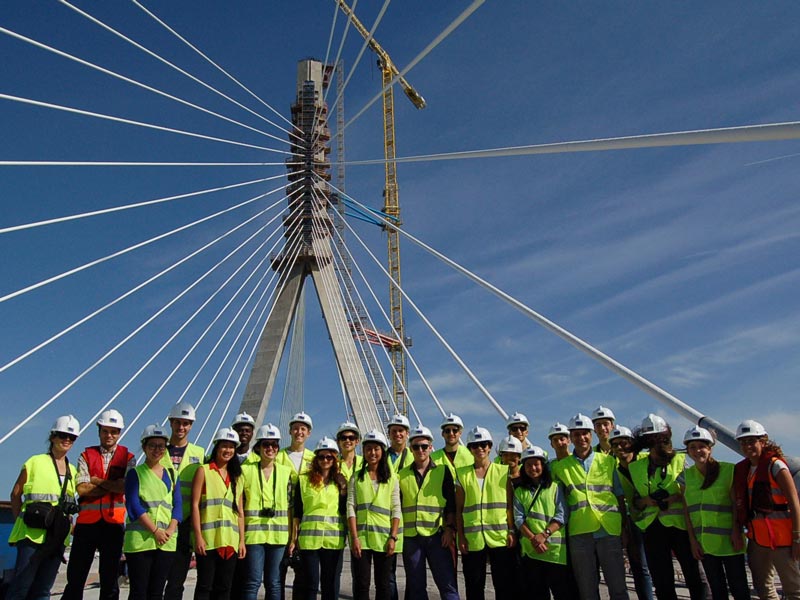 Through detailed studies of structures (buildings, vaults, bridges), CEE463 develops the student's skills in drawing, model making, aesthetic considerations, and advanced engineering analysis. It also emphasizes the humanities aspect of our built environment through a study of the social and economic context of the built work. The theme of the course changes every time it is taught:
Within each theme, engineering calculations of designs will be made through advanced analyses, the social context will be studied, a site visit will be made during break week, and models of a few significant works will be created and placed on display as part of an exhibition in the Engineering Library.
Some relevant publications related to this course include:
Paya Zaforteza, I., Garlock, M.E.M., Adreiaenssens, S., Glisic, B. (2015). "'The Art of Spanish Bridge Design', a New Course Promoting the Holistic Learning of Structural Engineering", Proceedings of the IABSE Conference – Structural Engineering: Providing Solutions to Global Challenges, September 23-25 2015, Geneva, Switzerland.
Glisic, B., Garlock, M., Adriaenssens, S. (2014). "Innovative education in engineering: a social and multi-dimensional exploration of structures", Proceedings of the ASCE Structures Congress, ASCE, Boston, April.
Adriaenssens, S., and Garlock, M.E.M.(2012) "Teaching Social and Multidimensional Aspects of Structures through Fazlur Khan," in Festschrift Billington 2012, E.M. Hines, S.G. Buonopane and M.E.M. Garlock, editors, International Network for Structural Art, pp. 122-155.